I Count my Blessings everyday!
I am so grateful for this time of year that we can reflect on our
Blessings, Family and Friends.
This was seriously one of the quickest projects I have ever made!
I wasn't even planning it, it just happened!
I bought these fall picks from HobLob and had them sitting on my table.
In my view, I saw my vintage spool sitting on my bookshelf.
I just stuck the picks in and that was it! :)
I cut a piece of burlap and added a little label.
This is the sideview...
This week I am a part of the
6 Days of 24 Homemade Ornaments
My project will be posted on Thursday.
You have to go and check out what the other bloggers have been making!
Awesome ideas for your Christmas Tree & Gifts!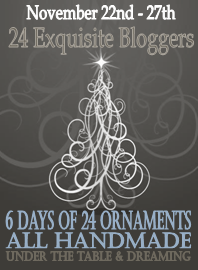 Have a wonderful day!!!